Win With Oxford City Sightseeing

Be our guest on board JACK's Be A Local tour, hosted by Trev.
Rediscover Oxford with our unusual take on the hop on hop off tour.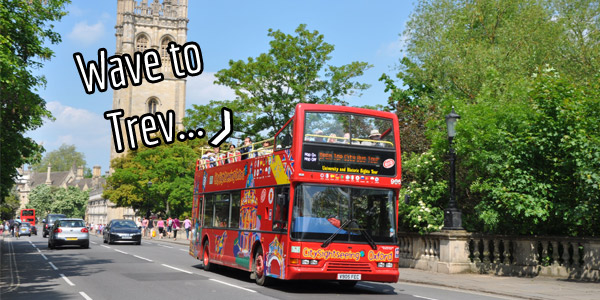 Oxford City Siteseeing now has kids commentary available which is suitable for kids of all ages...so Trev is sorted.
Oxford Citysightseeing open-top bus tours is a great way to discover the history of Oxford, a fantastic activity to undertake with family, friends and visitors throughout the year. Even if you've lived in Oxford for a long time the award-winning Historical City & University tour can give you a whole new perspective about your city.
If you want to win a seat on our unusual sightseeing tour for you and some friends, enter your details below and Trev might just pick you to play JACK's Be A Local Tour on JACK's Morning Glory... winners will also receive tickets to take the original tour again at their own leisure which includes entry to the Carfax Tower. Become a local Oxford tourist!