Paul Darrow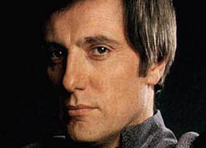 Since JACKfm launched in Oxfordshire back in 2007, Paul Darrow has been the main voice of JACKfm.
Before he was the man who made us all smile between songs, he was best known for his role in the BBC TV science fiction series Blakes 7, in the late 70s and early 80s.
His character Avon Kerr was a cynical anti-hero with wit and an excellent selection of put-downs which is why he was the natural choice for Voiceover Man at JACKfm!
Paul lived to the grand old age of 78 and we've carried on using some of his best one liner jokes from the archive, with his blessing, since 2019.
Whilst there will always be fuel crises, bad weather and ridiculous world leaders to joke about, we'd like to keep creating new topical content and have updated our station sound.
We'll always have fond memories of working with Paul and that's why we've put this tribute together with some of his best bits and some outtakes that have never been heard before.