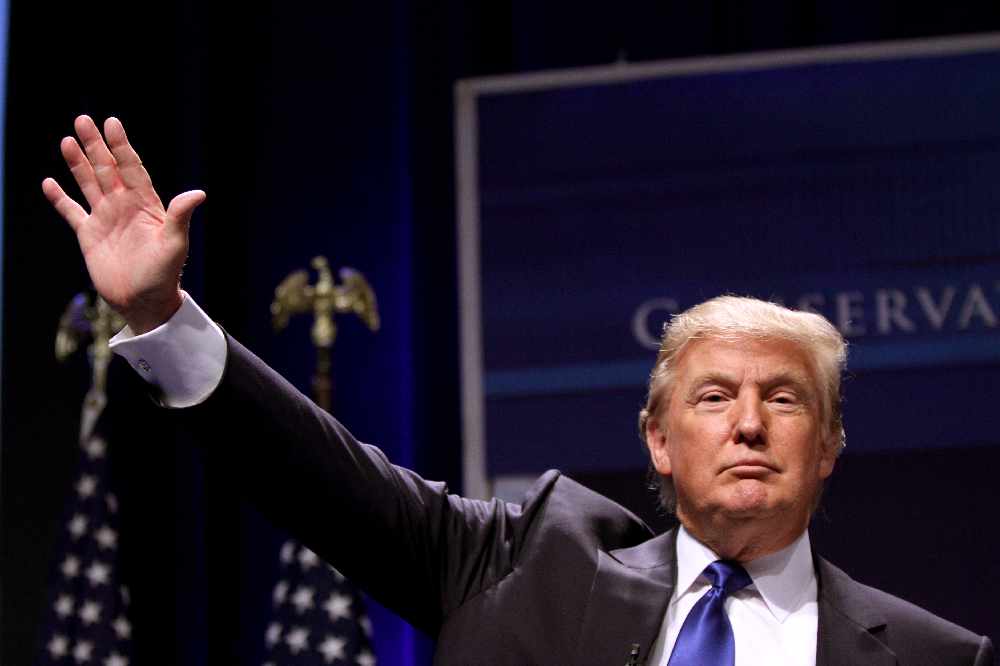 The warning has come from The Police Federation.
It says that the World Cup and the recent Novichok poisonings have already strained local police resources.
Almost all forces will send extra officers to help keep order at massive demonstrations planned across the UK.
Simon Kempton, Operational Policing Lead for the Police Federation said: "Thousands of officers will be deployed from their home forces as part of mutual aid agreements, which are an important element of policing in this country to allow our resources to be flexibly and where they are needed most.
"However the fact cannot be ignored that while the officers on mutual aid are deployed elsewhere thousands more of their colleagues left behind in their home force will be expected to pick up the slack leaving them even more stretched.
"There was a time when we could do it all but now choices have to be made - we cannot do it all and this type of event puts a service which is already creaking at its knees under unquestionable pressure."
Donald Trump will be kept well outside London for the bulk of his first visit, avoiding protesters who are expected to gather in the capital.
On Thursday (12th) he will attend a lavish black-tie dinner at Blenheim Palace in Oxfordshire, having arrived in the UK on Air Force One that afternoon.
Along with his wife Melania, they will be guests of honour at a dinner for around 100 guests.
The 18th-century country house, built for the first Duke of Marlborough as a reward for his military victories, was the birthplace of Sir Winston Churchill, a personal hero of the president.
The event will begin with a military ceremony in the Great Court of Blenheim Palace, where the bands of the Scots, Irish and Welsh Guards will play the Liberty Fanfare, Amazing Grace, and the National Emblem.
Hosted by the Prime Minister, guests at the dinner will include leaders of UK business sectors including financial services, travel, creative industries, food and drink, engineering, tech, infrastructure, pharmaceuticals and defence.
Downing Street said the dinner was intended to "celebrate the strong business links between our two countries" at a time when the UK is hoping to strike a free trade deal with the US following Brexit.
During dinner, the Countess of Wessex's Orchestra will perform a series of classic British and American music hits. And on his departure, Mr Trump will be "piped out" by the Royal Regiment of Scotland.
Oxford MP Layla Moran has pledged to lead opposition protests outside Blenheim Palace on Thursday.
She said: "Trump's rhetoric and policies go against the beliefs and values of residents across Oxford West and Abingdon, Oxfordshire and the country as a whole.
"I look forward to this cathartic moment and I hope that as many people as possible will join us outside Blenheim Palace next week to make sure Trump knows just how strongly we object to his mysogynistic, reactionary and racist agenda."
Anneliese Dodds, MP for Oxford East, said she couldn't attend protests because of 'prior commitments', but that it was 'clear that Oxfordshire residents do not want to welcome Trump to our county.'
She said: "It is ironic that this beautiful place is playing host to a man with such ugly ideals.
"Indeed the last time I was at Blenheim was earlier this year for the Oxford Children's Hospital fundraising run. Hundreds of NHS staff were there, all supporting the institution they work so hard for. Yet as we all know, Trump's attacks on Obamacare mean he would deny ordinary people the kind of healthcare that Trump can easily afford for himself."
The President and his wife will then spend Friday night at the US Ambassador's London residence Winfield House, in Regent's Park.
On Saturday, Mrs May and Mr Trump will visit an unnamed defence site to view a demonstration of UK military capabilities, with a strong stress on integrated UK-US military training.
They will move on to Chequers for a working lunch and bilateral talks on a range of international issues, followed by a press conference.
Mr Trump will then rejoin Melania, who is being hosted by Mrs May's husband Philip on a separate schedule that morning, for their visit to meet the Queen at Windsor.
The president and first lady will fly on Friday evening to Scotland - which is being described as a private element of the official visit.
On Sunday, Trump is expected to move on to Finland ahead of his keenly-awaited summit with Russian President Vladimir Putin in Helsinki on July 16.
PIC: Donald Trump BY Gage Skidmore CC