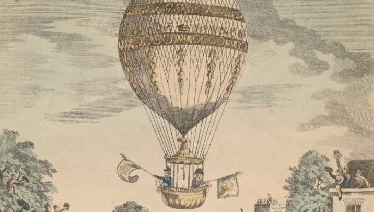 A pair of Oxfordshire businessmen are hoping to put one in at Oxpens.
It would be designed to look just like the one used by James Sadler for his inaugral flight.
The Oxford cake baker become the first Englishman to fly in 1784 and now, Dave Dunphy, from Witney, and Dave Davies, from Woodstock, want to recreate the experience.
They say: "Although the James Sadler Oxford Balloon Experience will look like a faithful replica of Sadler's original balloon, it contains reassuringly 21st Century technology – allowing the helium balloon to rise silently, even during wind speeds of up to 25 knots."
The pair feel there isn't enough on offer for visitors to Oxford and think the 500-foot high balloon ride would fill a gap in the market.
As well as offering people a chance to view the Dreaming Spires skyline from above, they are hoping it will act as an educational tool for schoolchildren.
They say: "We intend to offer all Year 5 pupils within the City of Oxford a free field trip day in the information/education centre, followed by a flight in the balloon."
They describe James Sadler as England's "true pioneer of flight" as the first Englishman to design, build and pilot the 1st ever balloon flight and did so in Oxford.
They're currently negotiating with Oxford City Council about it's installation, with hopes it will be in place sometime next year.