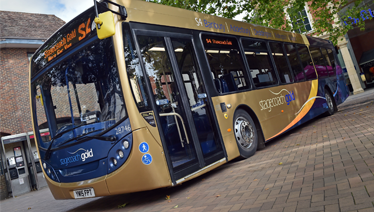 It's so companies can focus on managing the impact of the coronavirus on their trade.
The date that buses have to be compliant with Oxford's Zero Emission Zone proposals has been pushed back by a year, because of the pandemic.
The City Council says locking down Oxford is helping to beat the virus, but 'there are trade-offs' and the council 'must adjust.'
Hackney Carriage taxis have also been given more time to meet new emissions standards. You can read more about the changes for black cabs, here.
The updates have been made following feedback from the taxi trade and bus providers in Oxford about the impact the coronavirus is having on their own businesses and ability to comply with the timeline for the Zero Emission Zone.
In March, Oxford City Council and Oxfordshire County council announced that the launch of the Oxford ZEZ will be postponed until Summer 2021.
Now, the councils have agreed to extend by a year the timelines for buses to comply with Euro VI standard.
The new timelines for buses are:
Phase 1: 1 December 2021: All local buses operating within the streets affected will be required to be Euro VI standard. Buses which serve stops more than 10km (6.2 miles) in a straight line from Carfax will be exempt.
Phase 2: 1 December 2022 (to be reviewed 31 December 2021): All registered local bus services operating within the streets affected.
Councillor Tom Hayes, Cabinet Member for Zero Carbon Oxford, Oxford City Council, said: "The City Council is committed to cleaning up harmful toxic air, so that everybody can enjoy their right to good health.
"At this time of pandemic, however, our focus must be on protecting all public health from a new type of invisible harm.
"Locking down Oxford is helping to beat the virus, save lives, and protect our NHS. However, unfortunately, there are trade-offs, including slower economic growth and reduced bus use, so while Oxford absolutely will introduce our Zero Emission Zone, this council must adjust to the new reality forced upon us.
"It brings the council no joy to adjust the timeline for the Low Emission Zone for buses and cleaner emission requirements for taxis after so many years of discussions to reach decisions. Our hands are tied by the pandemic.
"But, we'll be connecting, rebuilding, and moving forward together based on what we've all experienced during this pandemic, how the virus and lockdown is changing our city, and what we all need."
Chris Coleman, Managing Director of Stagecoach Oxfordshire, said: "Whilst the current pandemic has taken its toll throughout the country, it has given us a glimpse of what cities and towns could look like with fewer cars on the roads and less damage to the environment.
"We need to grasp the opportunity to make this cleaner and safer environment permanent.
"A single bus can take more than 70 cars off the road and, as well as continuing to play a vital role in delivering cleaner air and reduced emissions, buses can help support the country's economic recovery.
"Our recent £5 million investment in 21 new Euro 6 double deck vehicles prior to the pandemic shows our commitment to delivering cleaner air."