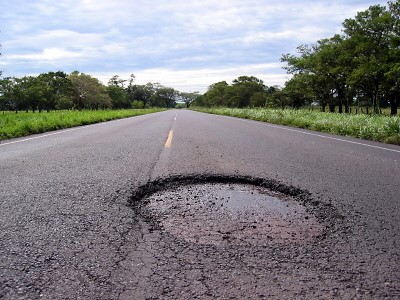 It's dealt with a 64% rise in pothole repairs this year, fixing 23,809 since January.
The proposals, to be considered by Cabinet next Tuesday (July 17th), would see an extra £10m invested repairing potholes after roads suffered badly during the freeze-thaw cycle of last winter.
A 'full business case' for a further investment of £120m over the next ten years is also set to be discussed.
This would be the biggest ever council-funded investment in highways and infrastructure in Oxfordshire, and would address the long-term decline in road conditions as well as other council assets such as school buildings.
The investment would be funded through the additional Council Tax income that is projected because of population growth in the county.
This would be in addition to the planned £150m road network improvement that is being funded by the government through the 'growth deal' with all six Oxfordshire councils.
Council Leader, Ian Hudspeth, said: "We know that road users are very concerned about the state of the roads in Oxfordshire and we have been looking at ways to tackle the problem, which everyone knows is getting worse.
"We think there could be an opportunity to utilise some of the council tax income generated from population growth to give a much-needed cash injection for our highways so they are able to meet the demands of the future."
Highway engineers are producing a programme of maintenance works to be delivered this year, which will be published if the Cabinet give the go-ahead.