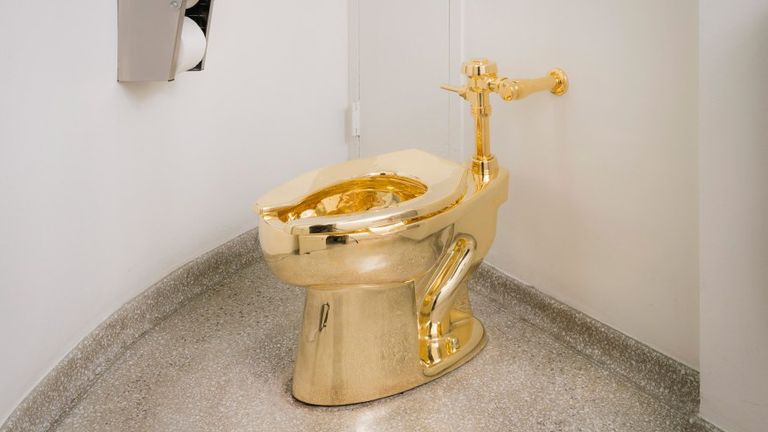 A 66-year-old man, arrested in connection with the incident, has been released on bail.
The £1million lavatory only opened two days ago, as part of a contemporary art exhibition.
It was made by artist Maurizio Cattelan in 2016 and was placed opposite the room in which Winston Churchill was born.
But, there's been some 'drama overnight' at the Estate as a source told us that the 18-carat loo was stolen in the early hours.
Thames Valley Police later confirmed that it is investigating a burglary at the Estate.
Detective Inspector Jess Milne, said: "The piece of art that has been stolen is a high value toilet made out of gold that was on display at the palace.
"Due to the toilet being plumbed in to the building, this has caused significant damage and flooding.
"We believe a group offenders used at least two vehicles during the offence.
"The artwork has not been recovered at this time but we are conducting a thorough investigation to find it and bring those responsible to justice."
Residents will see an increased police presence in Woodstock as enquires are carried out.
Dominic Hare CEO of Blenheim Palace said: "We are saddened by this extraordinary event, but also relieved no-one was hurt. We are very grateful to our staff and to Thames Valley Police for their rapid and brave reactions.
"We knew there was huge interest in the Maurizio Cattelan contemporary art exhibition, with many set to come and enjoy the installations. It's therefore a great shame an item so precious has been taken, but we still have so many fascinating treasures in the Palace and the remaining items of the exhibition to share.
"The investigation continues, but it will be business as usual from tomorrow, so visitors can continue to come and experience all we have to offer.
If anyone knows or saw anything suspicious in connection with the event that may help us secure its return please contact Thames Valley Police.''
**IMPORTANT NOTICE**

Due to an unforeseen incident at the Palace we are closed until lunchtime, the Park will remain open.

Apologies for any inconvenience.

— Blenheim Palace (@BlenheimPalace) September 14, 2019
Beautiful morning here at Blenheim Palace.

We've had some drama overnight which I won't elaborate on just yet but it has meant we need to redirect our contractor traffic for the day. Fortunately not many of our… https://t.co/t9ipE84eEr

— EventSiteDesign (@eventsitedesign) September 14, 2019
The Palace was closed for the day for police investigations.