JACK's Train Tracks

Kids off the rails during the school hols? You getting tunnel vision? Running out of steam?
We've got just the ticket.
We're carriage-ing you away with free train travel and days out in the capital all August – with Chiltern Railways.
You could be hopping on a train to London with your family, along with a family pass to ride the London Eye.
Any time you hear a JACK Train Track - you need to pop on to this page and enter the song title below...
It really is as simple as relaxing on a train!
We don't know what time the Train Tracks will be played, so you may just have to listen all day, every day - how cheeky of us.
Oh and, the more songs you hear, the more times you can enter, meaning the more chances you have of winning...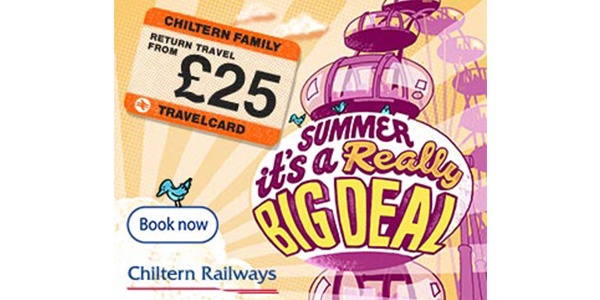 The Chiltern Family Travelcard is a great way to escape Oxford and visit the Capital! A return journey to London Marylebone including unlimited bus and tube travel from just £25, you'll also get 2 for 1 tickets on top London attractions. Have a nosey here.
Pop the song you heard in below and we could be 'choo choo choosing' you!