JACK's Number 1 in Oxfordshire
STRICTLY EMBARGOED UNTIL 00:01 Thursday October 27th 2016

JACK Oxfordshire now #1 and commercial radio's market leading brand across Oxfordshire!
Oxfordshire has a new commercial NUMBER ONE radio brand. Since launching JACK in October 2007, JACKfm has brought a new, fresh and dynamic listening experience to commercial radio – with a twist! This week marks JACKfm's 9th birthday and JACK Oxfordshire has just recorded its highest EVER listening figures since launch. Alongside JACK2 the RAJAR results released today show:
- Highest ever JACK Oxfordshire weekly reach jumping to 128,000 weekly listeners thumping Heart Thames Valley at 123,000 listeners
- Highest ever Listening hours up 22% to 862,000 hours
- Highest ever market share at 8.3%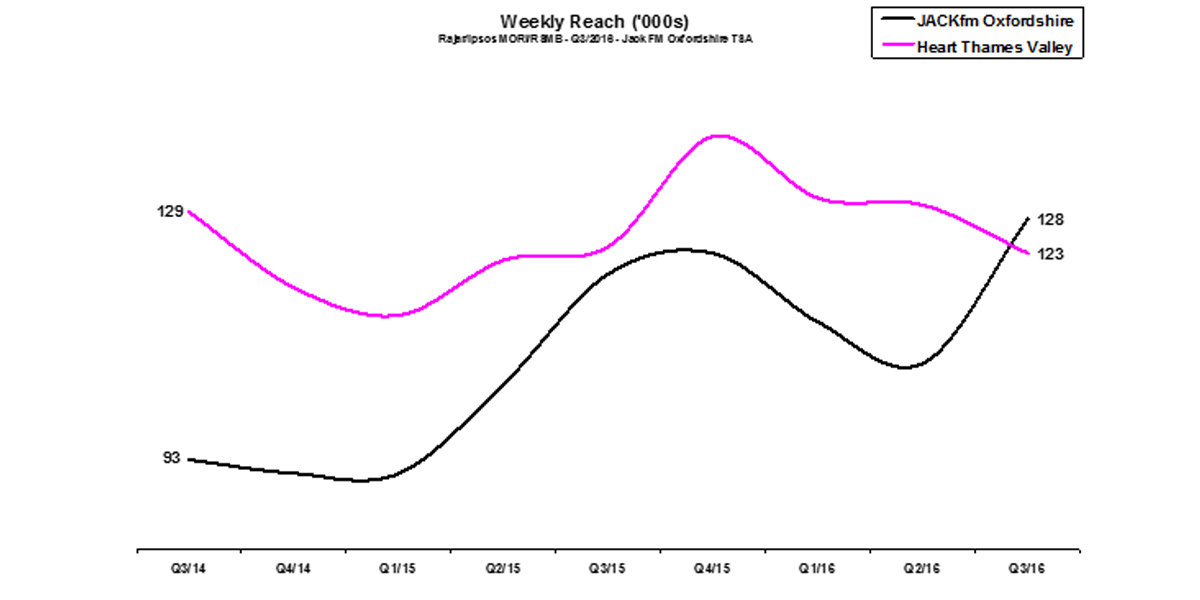 JACKfm since launch has become the UK's most awarded local commercial radio station EVER! JACK is known for its honesty, fun persona, quirkiness, irreverence but most of all its love of Oxfordshire. JACK2 has captured the imagination of Oxfordshire, where the radio station allows every song that is played on air to be chosen by its audience using the JACK2 app.
Across the past twelve months JACK2 has recorded an impressive 56% increase in weekly listeners (Reach) and its breakfast show is now the second most listened to local commercial morning radio show across Oxfordshire, hosted by Oxford DJ legend Rich Smith.
Tim Parker – JACK's Programme Director said:
"We are honestly thrilled to be market leader in Oxfordshire for the first time. Oxfordshire just loves both our radio stations and month on month our digital engagement continues to grow. Our commercial partners and advertisers are getting superb results and we are also proud to be seen as innovators by owning one of the most exciting radio brands in UK radio. Of course our recent launch of our new radio station Union JACK has been another great achievement for our Oxfordshire team".
Hamish Law – JACK's Sales Manager said:
"Throughout 2016 JACK and JACK 2 have been delivering bespoke creative solutions to our commercial partners. Today's result, showing that JACK and JACK 2 have become radio's commercial market leaders in Oxfordshire will allow us to further forge closer alliances with local business owners who understand that growing their business is a lot easier with a media brand that is actually located in their county. Being local is so important to our clients. Our strategy is always putting local first. Thank you Oxfordshire for trusting JACK and JACK 2 as your favourite local commercial radio stations".
From the Dumpy Building in Oxfordshire, JACK now delivers 1,070,000 total listening hours, which includes JACKfm and JACK2 in both Oxfordshire and across its new services in Surrey.
For further information about JACKfm or JACK2, please contact Programme Director Tim Parker on 01865 315980.
*All figures quoted are All Adults 15+ within JACKfm/JACK2 TSA
*Source: RAJAR Ipsos MORI/RSMB Q3/15 – Q3/16
Notes:
The JACK UK radio business includes JACKfm (Playing what we went), JACK2 (Playing what you want) and Union JACK (Playing the best of British).
JACKfm and JACK2 currently broadcast on FM/DAB throughout Oxfordshire and on DAB throughout Surrey and Portsmouth.
Union JACK is a new national DAB service which launched on 9th September 2016. All of its music is chosen by listeners through the Union JACK app or online (www.unionjack.co.uk). It's the most exciting brand to launch nationally in years and has already received over 800,000 votes for songs from its listeners.
Ends